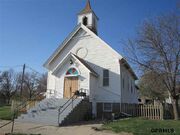 The Kennard Church is a Methodist church located near the housing part of Kennard. The chruch is called Grace Unided Methodist Church. The chruch was make in 1908.
The church is over 100 years old
They still have the Sunday services
Almost everyone in Kennard goes to that church
There used to be 2 churches in Kennard, but someone bought it and made it into a house
Ad blocker interference detected!
Wikia is a free-to-use site that makes money from advertising. We have a modified experience for viewers using ad blockers

Wikia is not accessible if you've made further modifications. Remove the custom ad blocker rule(s) and the page will load as expected.